How to Choose a Door Closer
While asking customers and employees to keep doors closed is an option, the safer, more reliable solution is investing in a door closer.
Sometimes leaving doors open makes sense–open doors invite people in. For businesses large and small, there are often doors that need to be closed for a variety of reasons:
To keep in air-conditioning or heat
To keep out wind, fumes, animals, or thieves
For security, safety, and privacy
Compliance with building codes that require closed doors for fire suppression
Types of Door Closers
To put it simply, door closers are hardware devices attached to the door: after the door is opened, the device will close it again automatically.
Sounds simple, but it's actually a bit more complex. There are several types of door closers available, and the wrong choice could make your customer's door slam shut too quickly or not close fully to latch.
The basic types of door closers include:
Spring Closers
Many will be familiar with these types of closers, from the sound of a screen door slamming shut behind us. Often found in residences, modern spring closers are often built into the door rather than simply attached on top. They do not offer much control and can wear out. For this reason, spring closers may not be the best option for commercial spaces because of the high volume of customers.
Pneumatic and Hydraulic Closers
Designed for heavy commercial use, these closers work in a way that is similar to shock absorbers in cars. They use air or oil (sometimes with the addition of springs) to control the speed and closing force of the door. The addition of springs helps prevent the doors from being blown open by the wind. You can often find pneumatic and hydraulic closers in commercial buildings and office entrances.
Automatic Door Openers and Closers
We have all experienced automatic door openers and closers as they are often used in retail locations, accessible entrances, senior living centers, and hospitals. The doors open and close electronically—either with a pressure-sensitive mat, photoelectric cell, or manually-activated switch. Automatic door openers and closers are ideal for accessibility, safety, and convenience. They can be used on both swinging and sliding doors, which helps provide access to all your customers. In addition, most are self-locking for added security.
How to Choose the Right Door Closer
In order to select the best option for your needs, consider the following:
Sizing
What size door closer will you need? This choice will be based on the height and weight of the door. Door closers are sized from 1 to 6, with the higher numbers being more powerful. There are also some closers that are adjustable if your customer is unsure.

Check with the sizing chart provided by closure manufacturers to help you select the proper size. The easiest path to finding the product that is right for your customers is to use the SECLOCK catalog, where you can find more details on all your hardware needs.
Mounting
When it comes to door closers, there are two major options—a visible surface mount or a concealed unit. The surface-mounted options are easier to install and cost less. The concealed options are more difficult to install and add cost. Either way, improperly mounted door closers can cause property damage, personal injury, and security issues. It's worth the extra cost to have a door closer professionally installed.
Surface Mount Closers
Surface-mounted closers are the most popular because are easier to install and cost less. The three most common mounting options are shown below:
Standard pull side mount:

Top jamb push side mount:

Parallel arm mount:

SECLOCK offers many surface mounted door closers that offer all three mounting options in the same box so that you can decide which way you want to mount the closer on site. However, site conditions may mandate special mounting plates or brackets. For example, if you have an out-swinging aluminum storefront door with a 2-1/2-inch top rail, and you want to mount your door closer in parallel arm mount, you will need a "drop plate" to make it fit.
Concealed Door Closers
Concealed door closers include overhead concealed closers and floor closer. Overhead concealed closers are mounted in the header above the door. Floor closers are mounted into the floor.
Below is an example of a concealed overhead closer. This model works with butt hinges or offset pivots.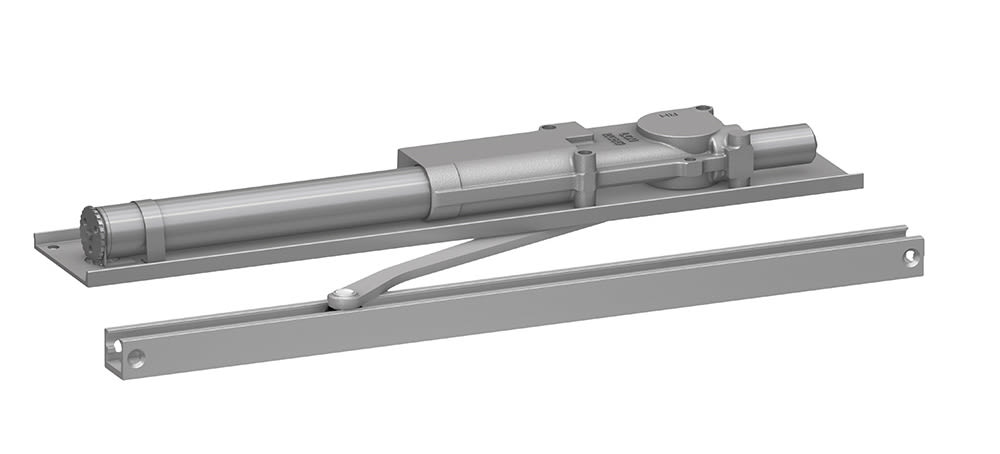 Below is an example of a floor closer. Floor closers are often sold as a package with a top pivot hinge.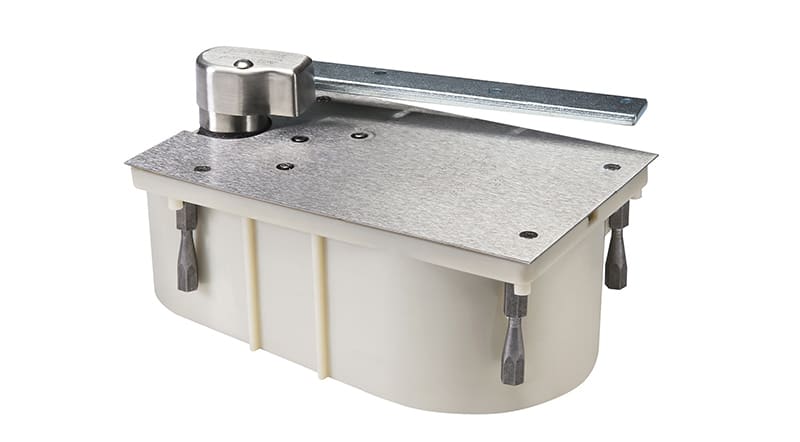 Options
There are several issues to consider when it comes to how these doors are being used:
Do you need to have a backcheck on your door closer? A backcheck works like a doorstop, limiting the swing on the door, and only comes in certain models.
Do you need delayed action doors? These doors delay the time between opening and closing (adjustable up to one minute) and are really helpful for accessibility of all types. While delayed action doors may be a requirement for ADA compliance, they're especially useful in any situation where people are wheeling or carrying things in and out.
Appearance
The final decision you need to make is the finish. Door closers come in a variety of finishes including chrome, stainless steel, brass, and bronze. For a classy look, make sure all of your hardware complements each other.
SECLOCK Makes Ordering Easier
The path to selecting, ordering, and receiving your door closer couldn't be easier. It all starts with a visit to your trusted wholesale-only distributor of premium brand door hardware–now known as SECLOCK.
Our catalog gives you access to hundreds of manufacturers, so you can easily compare products. We take pride in providing expert technical support and same-day shipping. In addition, our library of web tutorials will provide answers to any questions about specific products or manufacturers.

Order your door closer today!